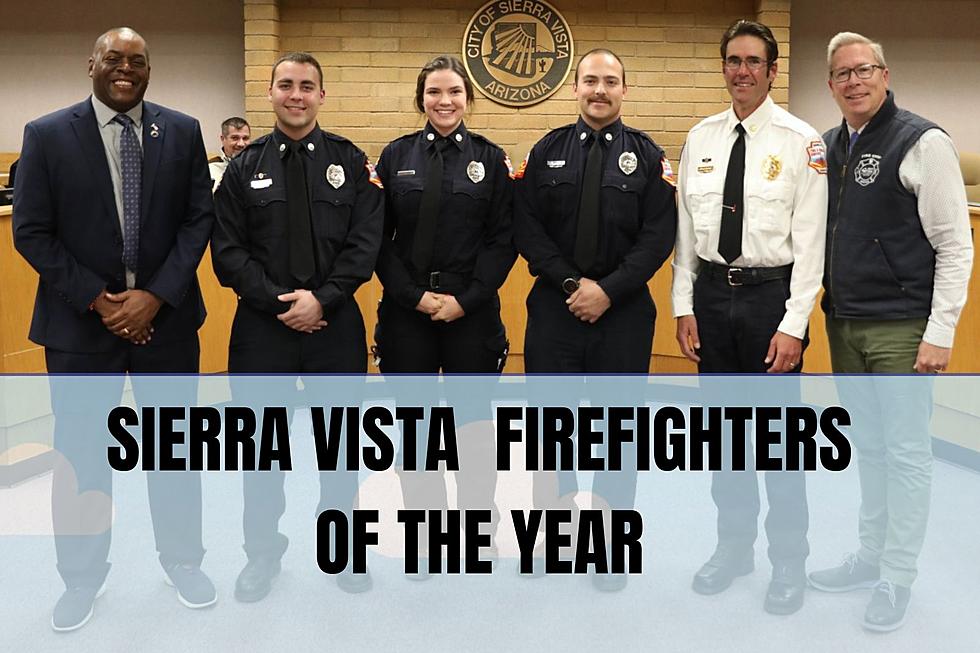 Sierra Vista Firefighters of the year
Photo courtesy of the City of Sierra Vista CANVA
Firefighters are local heroes. They are first responders that put themselves in danger to protect our families. It is always a privilege to highlight these professionals who rise to the top in our community.
Here is the City of Sierra Vista press release:
The 2022 #SVFireandMedical employees of the year were recognized at last night's City Council meeting. Congratulations to the winners! Here are the winners and summaries of remarks shared by SVF&MS Chief Brian Jones on their extraordinary accomplishments.
2022 Firefighter of the Year Thomas Wiedemann. In his short tenure, Wiedemann has made a remarkable impression on his peers, earning the most nominations of any employee. His peers call him a "firefighter like no other." He is exceptionally skilled and loves to mentor others. A natural leader, he consistently seeks ways to make the department better. He implemented a field training officer training program for newly-hired EMS personnel, which is proving to be very beneficial.
2022 Paramedic Muriel Adams. While young in years, Adams is a senior member of the EMS division who demonstrates extraordinary expertise and maturity. She is calm, collected and highly skilled, while always caring for her patients with a servant's heart. She loves to learn as much as she loves to mentor new employees.
2022 EMT of the Year Phil Wechsler. A relative newcomer to the department, Wechsler is wise beyond his years. He is respectful, hardworking, and an absolute joy to work with. He strives to stay one step ahead of everyone else while also having a heart for teaching. We cannot wait to see where his career takes him.
2022 Outstanding Achievement of the Year Joshua Meeker. Josh's vision, wisdom, and drive pushes us to new heights. He implemented a new station alerting system that also benefited fire and EMS agencies throughout Cochise County. This makes us better, faster, and safer in our service delivery. Josh is the leader of the department's Health and Safety Committee and sets the standard day after day of what it means to live a healthy and fulfilling life. An accomplished marathon runner, Meeker is an inspiration to his peers on duty and off.