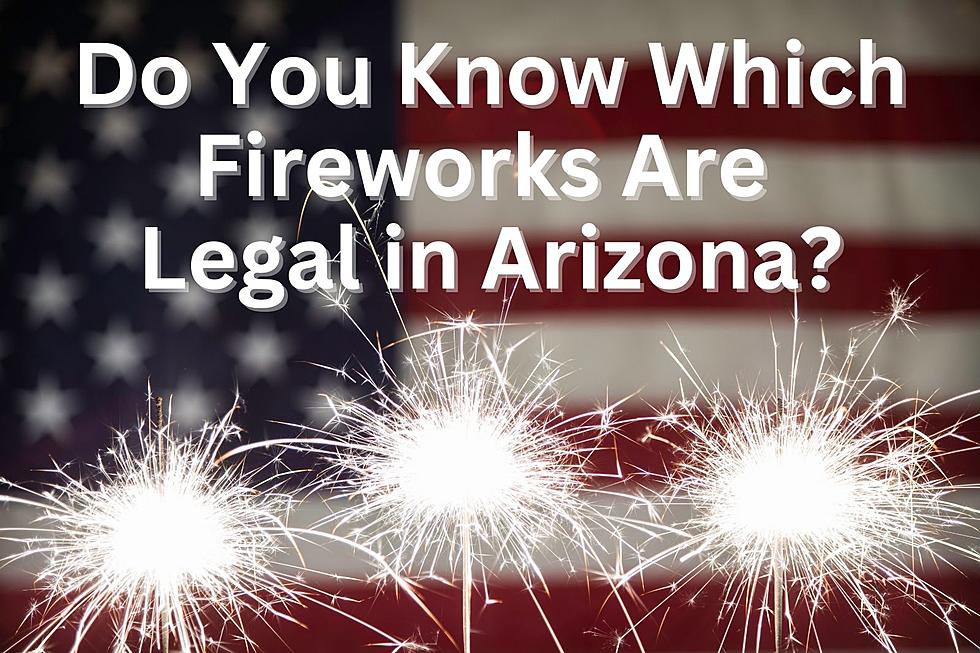 Arizona Fireworks Laws: What You Need to Know for the 4th of July
Canva
Gathering with friends and family, barbecuing and fireworks. It's as American as apple pie and this Independence Day, Arizona is expecting to celebrate in style.
Around the 4th of July, fireworks pop up for sale all over the state of Arizona,. Before you pick them up for home use, know which ones are legal and which ones will get you into trouble if you're caught using them.
Illegal Fireworks
Don't be tempted to pick up fireworks in Mexico or other states for home use in our state. In Arizona, any type of firework that explodes or detonates in the air is illegal to use on July 4th or any other time of the year.
Here are some of the ILLEGAL fireworks:
Aerial fireworks
Sky or bottle rockets
Roman Candles
Firecrackers
Any type of reloadable shells or devices
Basically, any type of firework that will irritate your neighbors by making loud noises or shooting up into the air are banned throughout Arizona and considered unsafe for home use.
Legal Fireworks
You can still have fun with certain types of fireworks during your Fourth of July celebration. Check out Arizona Revised Statutes Section 36-1606 for a complete list of fireworks you can and cannot use at home.
Here are some you're allowed to use:
Sparklers
Smoker devices
Novelty fireworks

Snakes
Party Poppers
Snappers

Ground Spinners
Sparkling Wheel Devices
Fountain-Style Fireworks
In certain cities and towns in Arizona, if you're caught using any type of illegal fireworks, you could face a big fine.
The City of Glendale, for example, will levy a fine of $1,500 for the first offense and $2,000 for the second offense.
No matter what, always be careful with fireworks and supervise kids under the age of 16 with sparklers and other devices.
LOOK: Highest-rated free things to do in Arizona, according to Tripadvisor
Stacker
compiled a list of the highest rated free things to do in Arizona from
Tripadvisor
.