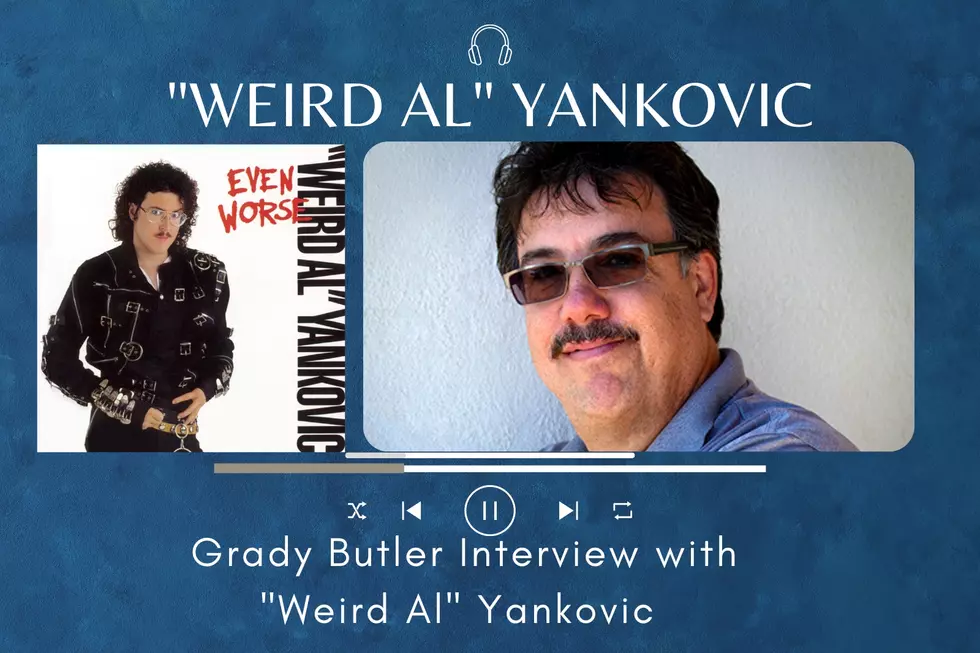 "Weird Al" Yankovic 2014 Interview with Grady Butler on Arizona Radio
Photo credit Grady Butler, Canva, Album Cover, Rock 'n Roll Scotti Brothers
The first time I remember hearing "Weird Al" Yankovic was the song "Eat It" at a friend's house in the '80s. That got me started me listening to the Dr. Demento radio show.
Weird Al's first album, "Weird Al Yankovic," had parody songs like "Ricky" based on Tini Basil's "Mickey," A parody of Joan Jett's "I Love Rock 'n' Roll" called "I Love Rocky Road."
If it was a big hit, we wanted Weird Al to redo it. He also redid the videos of the songs, and they were just as creative as his song version. Learning the moves of Michael Jackson and Madonna, his video offerings were entertaining spoofs but they are also a showcase of his own talent. He also had AL TV and a movie called UHF. He made cameos in movies as well. Most recently, "Weird: The Al Yankovic Story" starring Daniel Radcliffe as Weird Al.
When I had the chance to interview "Weird Al" Yankovic in 2014, I could not pass it up. He was promoting his 14th album, "Mandatory Fun." I got to talk to him about my favorites, "Eat It" and "Fat," and made it a point to compliment him on his word craft, especially in "The Saga Begins" (A Star Wars parody of Don McLean's "American Pie").
My Friend Brian Hursh is a massive fan of "Weird Al," so I had Al say hi to him during the interview, but it was not just "Hello Brian"; nope, he made it WEIRD.
Listen to the interview below.
LOOK: See the Most Famous Musician Born the Same Year As You
Stacker
identified musicians born in every year from 1920 to 2003 and determined the most famous born the same year as you.
Gallery Credit: Stacker
Check Out the Best-Selling Album From the Year You Graduated High School
Do you remember the top album from the year you graduated high school?
Stacker
analyzed
Billboard
data to determine just that, looking at the best-selling album from every year going all the way back to 1956. Sales data is included only from 1992 onward when Nielsen's SoundScan began gathering computerized figures.
Going in chronological order from 1956 to 2020, we present the best-selling album from the year you graduated high school.
Gallery Credit: Jacob Osborn