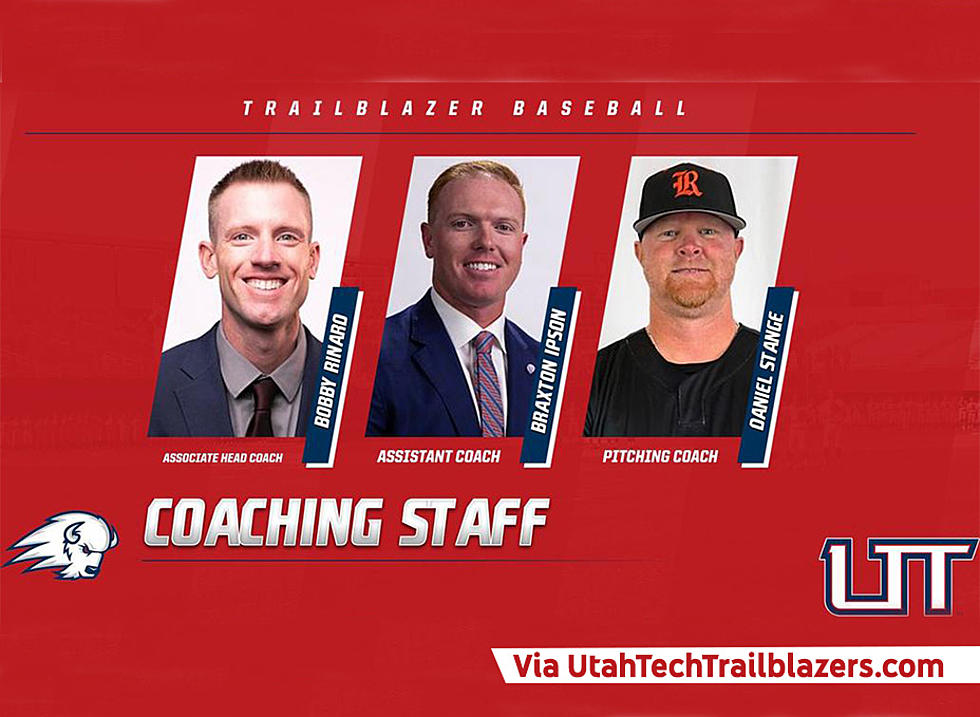 Utah Tech Baseball Announces Coaching Staff Changes
UtahTechTrailblazers.com
Utah Tech Baseball is making some adjustments to their coaching staff.
Here's the press release they sent out yesterday morning if you missed it.
By: UT Athletics Media Relations
Utah Tech head baseball coach Chris Pfatenhauer announced on Tuesday three staff changes, including the elevation of two members of his current staff, along with the hiring of former Major Leaguer Daniel Stange as the Trailblazers' new pitching coach.
Pfatenhauer promoted long-time assistant coach Bobby Rinard to associate head coach, and elevated Braxton Ipson from Director of Baseball Operations to assistant coach.
Rinard, who also serves as the program's recruiting coordinator, just completed his ninth season on the Trailblazer coaching staff. He has helped lead Utah Tech to one conference title (2015 – Pacific West) and to three NCAA Division II regional appearances (2015, 2016, 2017). With Rinard in the Trailblazer dugout, Utah Tech has won 245 games, including a 40-win season in 2016, and a 39-win campaign in 2017.
"I could not be more excited to announce the promotion of Bobby Rinard to associate head coach," Pfatenhauer said. "Bobby has been a huge part of our program for the past nine years and his commitment to our players and his loyalty to our program has been evident. He will maintain the title of recruiting coordinator, as well as continue to work with the outfielders, hitters, and base runners."
Ipson returned to the Trailblazer program prior to the start of the 2022-23 academic year after serving two seasons as an assistant baseball coach at his prep alma mater, Dixie High School.
Ipson played four seasons for then-Dixie State, starting in 48 of 88 games. He finished his career with 11 extra-base hits, including five home runs and 41 RBI, along with a career .980 fielding percentage while primarily playing first base. Ipson was also a three-time academic all-conference selection, including earning academic all-Rocky Mountain Athletic Conference honors in 2019 and 2020.
"Elevating Braxton to assistant coach was an easy decision for me," noted Pfatenhauer. "Braxton's work ethic is phenomenal and his passion for Trailblazer Baseball is unmatched. Braxton will oversee the infielders and assist with hitters and recruiting."
Stange comes to Utah Tech after spending last season as an assistant coach at Riverside (CA) City College, where he helped lead the Tigers to a 28-13 overall record and a second place finish in the Orange Empire Conference standings (15-6).
Prior to his time at RCC, Stange served as head coach and director of athletics at the University of St. Katherine from 2016-22. In seven seasons at USK, he guided the Firebirds to a 159-127 record, which included an 80-50 mark in two seasons of NAIA play, and to a 2021 Cal Pac conference championship and a runner-up finish in 2022.
Meanwhile as USK athletic director, Stange successfully led the program's transition from the NCCAA to the NAIA. He added seven different sports and drove the athletic department revenue from $300K to over $6 million. In addition, the Firebird baseball program touted he highest retention and graduation rates in during his tenure as the institution.
Stange was a 33rd-round draft pick out of high school by the Atlanta Braves in the 2003 June Amateur Draft. However he elected to play collegiately at UC Riverside, where he was part of the Highlander program for three seasons from 2004-06.
While at UCR, Stange was an honorable mention all-Big West Conference selection in 2006 after recording 11 saves, and he is currently ranked fifth all-time in UCR history in career saves (12).
Following the 2006 season, Stange was a seventh-round selection of the Arizona Diamondbacks, for whom he made his Major League debut during the 2010 season. He also reached the majors with the Los Angeles Angels of Anaheim (2013), and played professionally in both the San Diego Padres and the Washington Nationals organizations.
"Daniel is a tremendous hire for us, to get a guy with Major League and head coaching experience is a huge lift for our program and especially for our pitching staff," said Pfatenhauer. "Daniel also brings a great tie to southern California recruiting for us. Daniel will oversee all aspect of the pitching staff and assist in recruiting."
Stange is a 2015 graduate of UC Riverside, and he completed work on his Master's degree at Concordia-Irvine in 2017.
These Things Are Illegal To Throw Away In Utah
These items are only to be disposed of at the local landfill, and not in your home garbage cans.