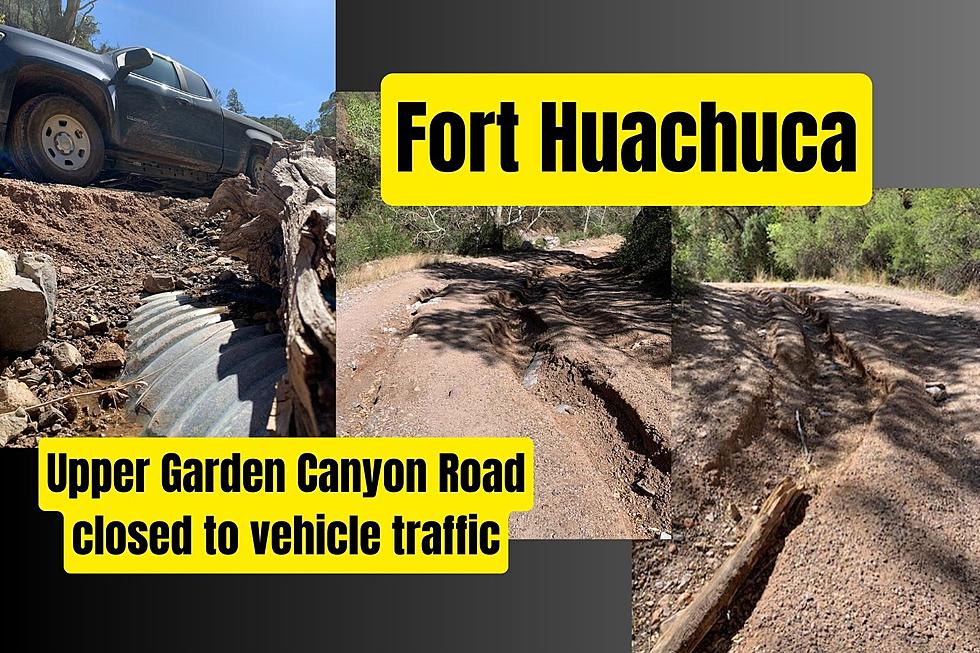 Fort Huachuca Upper Garden Canyon Road Closed to Vehicle Traffic
Photo courtesy of Fort Huachuca CANVA
If you are planning to hit the Mountains this Memorial Day weekend, Upper Garden Canyon on Fort Huachuca is not an option if you are driving, but you can still hike. Here is the Fort Huachuca press release.
Upper Garden Canyon Road to close to all motorized vehicle traffic
FORT HUACHUCA, Ariz. – The decision has been made to close upper Garden Canyon Road to all motorized vehicle traffic, except mission critical and emergency vehicles beginning June 1 until further notice. Hiking and mountain biking are still permitted beyond the closed gate.
At this time the road is so eroded that it has become unsafe, even for experienced drivers in high-clearance, four-wheel-drive vehicles. Due to the current condition of the road and limited turn-arounds after the upper gate, vehicles that break down or get stuck cannot be towed out.
Upper Garden Canyon Road is a critical access point for Fort Huachuca and U.S. Forest Service firefighters working to prevent and fight high-elevation mountain wildfires. Their continued access is vital to the life, health and safety of the fort and our surrounding neighbors. Continued recreational use of the road now and during the upcoming monsoons will negatively impact access for emergency vehicles and personnel.
Recreational users can still enjoy the natural beauty of the canyon by parking at the middle picnic area or the dirt turn-around area at the upper Garden Canyon gate. Park on the compacted dirt area instead of high, dry grass to avoid the possibility of a vehicle's hot undercarriage starting a wildfire.