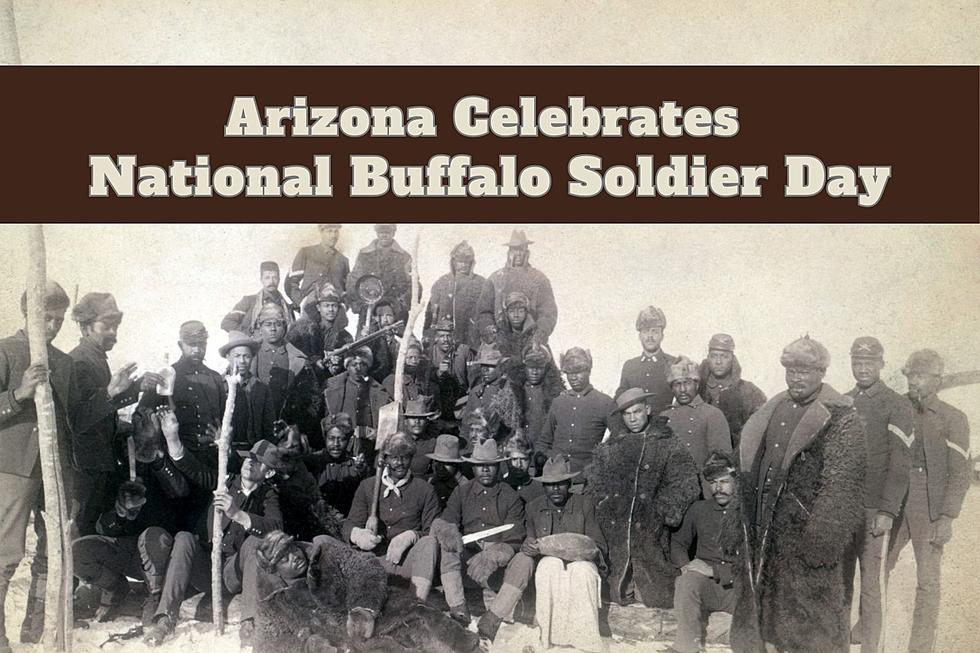 Celebrate Buffalo Soldiers Day and Learn a Unique Piece of Arizona History
Canva
You can't tell the story of Arizona without the history of the Buffalo Soldiers and the impact these men had on the West and the US military.
According to History.com, "The origin of the Buffalo Soldiers dates back to 1866 when Congress passed the Army Organization Act, which authorized the creation of six all-Black cavalry and infantry regiments."
The Black Calvary and Infantry Regiments
Wikipedia.com reports that these regiments encompassed the 9th and 10th Cavalry Regiments and the 24th, 25th, 38th, 39th, 40th, and 41st Infantry Regiments.

The 38th, 39th, 40th, and 41st were eventually consolidated into the 24th and 25th Infantry Regiments. They were composed of former slaves, freedmen, and Civil War veterans who volunteered to serve in the United States Army.
The black soldiers served on the Western Frontier after the Civil War, fighting in many battles and campaigns, including the Indian Wars, the Spanish-American War, and the Philippine-American War.
They also helped build roads, protect national parks, and escort settlers and mail carriers throughout the West.
Where Did the Name Buffalo Soldier Come From?
The term buffalo soldiers was given to the black soldiers by Native Americans, who were impressed by the courage, tenacity, and fighting spirit of these men.
While the soldiers faced discrimination and prejudice, they persevered and earned respect and recognition for their service and valor.
Celebrating National Buffalo Soldier Day
In  1992, Congress passed the law to designate July 28th as Buffalo Soldiers Day.
According to the US Army website, "Buffalo Soldiers Day is July 28, commemorating the formation of the first Army regiments comprised of African American Soldiers."
National Buffalo Soldiers Day is celebrated as a day that honors and celebrates the contributions of the African American soldiers who served in the U.S. Army after the Civil War.
Celebrating National Buffalo Soldiers Day in Arizona
Much of the history of the Buffalo Soldier can be traced to Fort Huachuca. If you'd like to learn more about the history of the Buffalo Soldiers in Arizona, celebrate National Buffalo Soldier Day.
For more information, contact the USAICoE Command History office at (520) 533-5121 or email TR-ICoE-Command-Historian@army.mil
Celebrate National Buffalo Soldiers Day Ceremony at 10 am at Fitch Auditorium in Alvardo Hall on Fort Huachuca on July 28.
LOOK: 28 Modern Black History Makers & Moments
LOOK: 50 essential civil rights speeches
Many of the speakers had a lifetime commitment to human rights, but one tried to silence an activist lobbying for voting rights, before later signing off on major civil rights legislation. Several fought for freedom for more than one oppressed group.
Keep reading to discover 50 essential civil rights speeches.
LOOK: A history of Black representation in movies