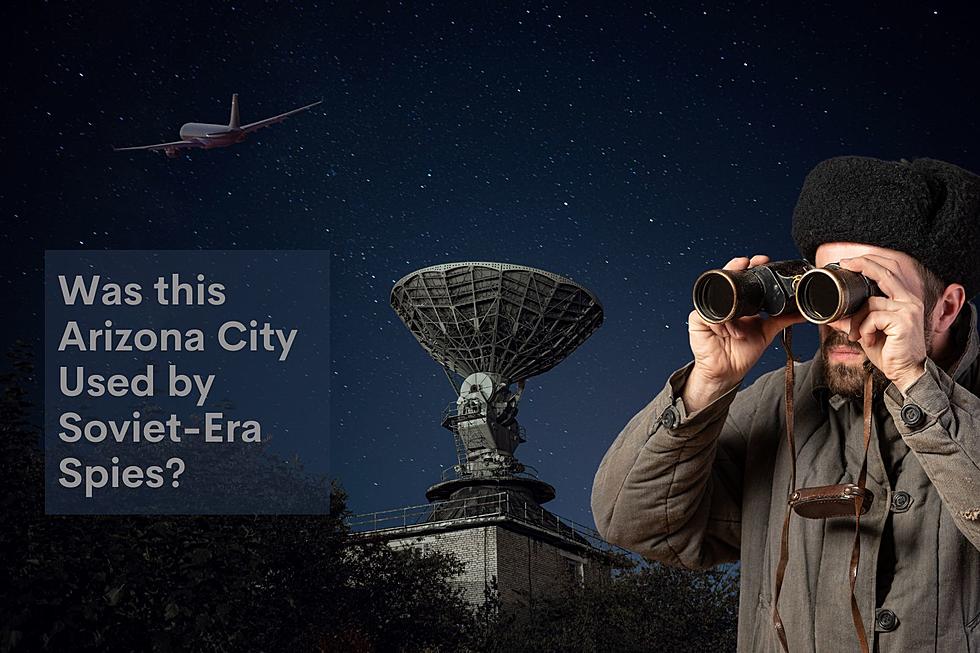 Did This Arizona City Use Giant Concrete Targets to Aid the Soviets During the Cold War?
Canva
There's a small unassuming town near Picacho Peak in Arizona that may have been used to aid international espionage during the Cold War.
According to Wikipedia.org, Arizona City was once used as a resting area for Juan Bautista de Anza's expedition party 1775, and it's part of the Juan Bautista de Anza National Historic Trail. The trail begins in Sonora, Mexico and ends in San Francisco, California.
But that's not all this sparsely populated Arizona town is known for.
Was Arizona City Used by Soviet Spies?
The tiny town of Arizona City boasts a mere 11,000 residents, swelling a bit during snowbird season in the winter. There's a small lake there, but that may not have been the attraction for certain tourists during the last century.
Strewn around the area are large concrete crosses that extend into the Casa Grande area. Rumors have flown for years that these calibration crosses had been used for the CORONA intelligence satellite program.
Were these crosses set up to help calibrate the spy satellites used the Soviets and Chinese at the height of the Cold War?
Calibration Targets
There's no denying that this giant target network is interesting. So, what were they used for? The giant concrete crosses were indeed used to calibrate cameras, but they're use may have been far more terrestrial.
So Secret, Workers Didn't Even Know the Name
No, these targets weren't used to calibrate the cameras for the CORONA spacecraft or any spacecraft. The CORONA program was once so classified, those working on the project were not even aware of its name until after it was declassified in 1995.
CORONA stood for Controlled Range Network (CORN). According to AtlasObscura.com, "The CORONA cameras were...calibrated in lab by raising the film plane by mere fractions of a millimeter based on information gathered from the Controlled Range Network (CORN).
"These high-resolution grid type targets were located in controlled areas (military bases) to prevent outside agencies from having direct access to the process."

What the Arizona City Aerial Crosses Were ACTUALLY Used For
These left-over targets are part of an array that was officially known as the Casa Grande Photogrammetric Test Range
This test range encompassed a 16x16 mile grid of 60-foot targets, spaced about 1 mile apart. They were used to calibrate aerial photogrammetry cameras which were used to validate maps. Photogrammetry is defined as, "the use of photography in surveying and mapping to measure distances between objects."
So, the mystery was solved. Now that we have Google Maps, these are just giant stone relics in the desert. Maybe one day they'll be buried in the earth only to be uncovered by some future civilization.
What do you think they'll make of these giant stone relics?
LOOK: Things from the year you were born that don't exist anymore
The iconic (and at times silly) toys, technologies, and electronics have been usurped since their grand entrance, either by advances in technology or breakthroughs in common sense.
See how many things on this list
trigger childhood memories—and which ones were here and gone so fast you missed them entirely.