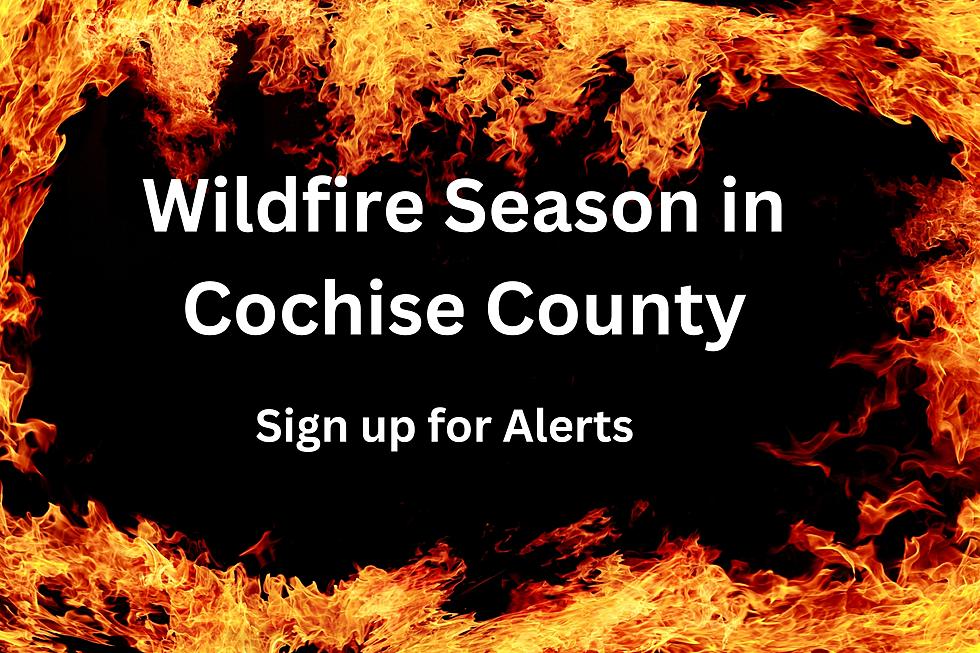 Sign up: Cochise County Emergency Alerts Fire Season
CANVA
Sheriff Mark Dannels and Cochise County Sheriff's Office Public Information Officer Carol Cappas talk about fire danger in Cochise County on the First Watch radio program. First Watch can be heard every Friday on 92,3 KWCD.
It's starting to get warm outside, and I know that throwing cigarettes out of cars that's one of your pet peeves.
Sheriff Dannels: it is a pet peeve, I'll give you a ticket for that one, and I just did that about a week and a half ago to an individual. The winds right now, it's very, very dry, it's getting hot, it's primed for a wildfire.
Just be very careful, and as we venture more into the forest and the deserts, just be careful out there. That's all I can say because once it starts, it's hard to control it without some tragedy.
Capas: One of the things that people may not think of is dry grass under your car. If you just have to pull off the road, be careful because that dry grass will ignite really quickly from the heat from underneath your car. Also, chains, keep your chains tied. If you're towing a trailer, make sure that they don't drag and spark something because that never ends well.
Sign up for AlertSense
AlertSense is a powerful emergency notification system used by Cochise County to quickly disseminate important information to residents in the event of an emergency via text or email. Signing up for AlertSense is a simple process and can be completed in just a few minutes. 
To sign up for AlertSense, visit the Cochise County website (link below) and click on the "Emergency Alerts" link. This will take you to the AlertSense registration page. From there, you will need to provide some basic information, including name, address, and contact information. You will be asked to select the types of alerts you would like to receive: severe weather alerts, evacuation notices, emergency information, and others. 
Once you have completed the registration process, you will receive a confirmation email with a link to activate your account. Click on the link and follow the instructions to complete the activation process. 
Once your account is activated, you can start receiving alerts from Cochise County. Alerts will be sent to the contact information you provided during the registration process, and you can also log in to your AlertSense account to manage your notification preferences and update your contact information. 
AlertSense is a service provided by Cochise County, and it is not mandatory to sign up, but it is highly recommended by law enforcement and other emergency agencies to stay informed in case of an emergency. 
Signing up for AlertSense is a quick and easy process that can help keep you informed and safe in the event of an emergency. By providing your contact information and selecting the types of alerts you would like to receive, you can ensure that you are prepared and aware of any potential hazards or dangers in your area. 
Sign up at the Cochise County website HERE