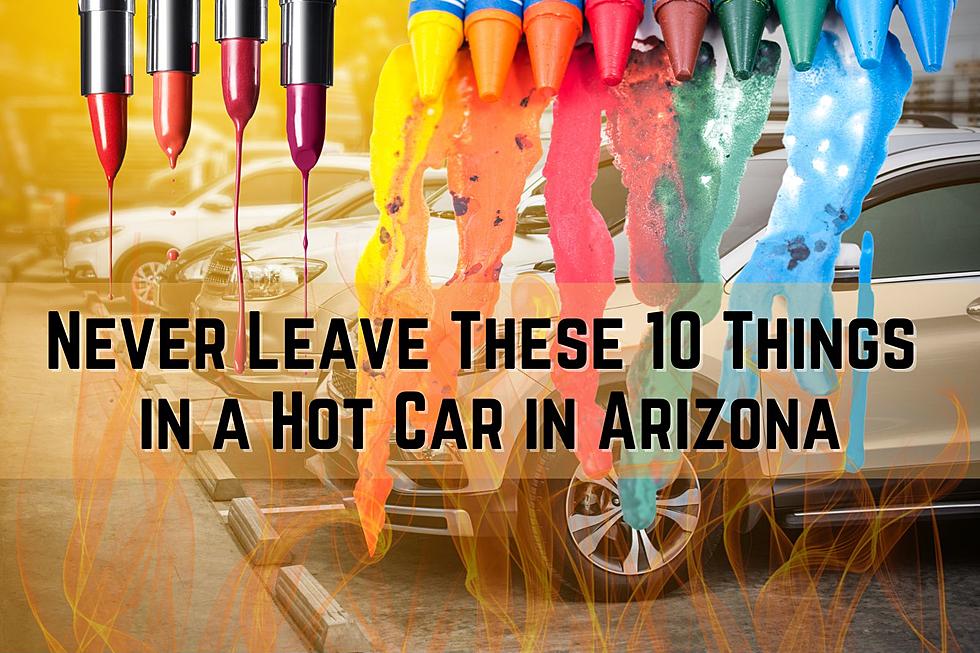 Don't Leave These 11 Things in a Hot Car in Arizona
Canva
Baking Cookies
One summer while visiting friends in Phoenix, we tried and experiment with our kids, to illustrate exactly how hot it can get in a car.
We sliced some refrigerated cookie dough, popped in onto a baking sheet, and set it in the windshield of the car, where we left it for a few hours. We also added a thermometer to get an idea of exactly how hot it was.
As we watched through the windshield, it didn't take more than a few minutes before the cookies because to "sweat" and glisten from the heat. If memory serves, the thermometer we added read somewhere in the neighborhood of 160 degrees in less than 15 minutes.
While the cookies weren't baking, they were definitely cooking. While this  experiment was something of a novelty for the kids, we used it as a teachable moment to talk about the danger of leaving anything - or anyone - in your car in the heat of the summer.
Don't Leave These 10 Things in Your Car in the Summer
We're known for our scorching summers here in Arizona.  Leaving something in your car could not only be dangerous, according to the Law Offices of John Phebus, it could be illegal in some cases.
When we published this list, we decided to add one more. So, the list grew to 11.
Here are 11 things you should never leave in a hot car in Arizona:
11. Electronics Like Cell Phones Can Be Dangerous if Left in a Hot Car
Have you ever forgotten your cell phone in the car or left it in the windshield when it's really hot, only to get a warning, indicating that it's overheating and about to shut off? Thank the smart folks at Apple and Samsung, it probably saved your device from permanent damage.
Heat can destroy your electronics. Cell phones, laptops, tablets and other gadgets can overheat and malfunction if exposed to high temperatures, even if they're switched off. The lithium batteries can explode and cause a fire, so don't leave these behind.
10. Don't Leave Food or Food Ingredients in Your Car
When food heats up, it can cause bacteria and food borne illnesses to grow. If something gets too warm, then it gets refrozen or refrigerated later, you could risk food poisoning later on. Even leaving cooked foods in your car can pose a risk if you eat it later one.
9. Beverages Can Be Dangerous if Left in Your Car
We're constantly working to stay hydrated, especially on hot days. Bottled water, soda, beer, wine, or any other beverage left in your vehicle could expand and burst. Not only could it create a sticky mess and waste money, cans and bottle could explode.
You might not see some of the other problems. Drinks stored in plastic could release chemicals like BPA that leaches from plastic bottles as it heats up.
8. Medications Should Never Be Left in Your Car
A lot of medications list storage instructions. "Keep in a cool, dry area", "Keep away from moisture". Some medications need to be stored at room temperature or in a refrigerator.
If you leave them in a hot car, they could become unsafe to use or ineffective.
7. Cosmetics Can Melt in Your Hot Car
At least once or twice, you're bound to find a tube of lipstick that accidentally rolled under a car seat, and turned into a liquid mess.
Makeup, sunscreen, lotion, perfume, or any other beauty product will likely melt or leak, or even change color in your heated vehicle. Items with sunscreen could become useless without you even knowing it.
6. Aerosol Cans Could Explode
I think this one might be obvious: when chemicals expand, they can explode. And what better way to cause expansion than heat.
Anything in an aerosol can - hairspray, deodorant, shaving cream, spray paint in an aerosol can - these are all pressurized and can explode in a hot car. It damage your car and injure someone in the vehicle.
5. Lighters Can Also Explode in Your Car
This is something that's easily forgotten in a car. Lighters' flammable fluid can leak and ignite if exposed to heat or oxygen.
4. Crayons Can Get Gross and Melty in the Heat
If you have kids, you've got crayons rolling around your car, that is, until they melt into the carpet. You'll find these melted into a colorful puddle under your seat, next to your melted lipstick you forgot about.
3. Candles Will Melt, Too
Just like crayons, candles melt and make a mess in a hot car. Don't leave these behind.
2. Pets Get Hot Faster Than You Think
It's fun to take our pets with us when we go on an outing, but there are so many places your pet can't go. Don't be tempted to leave fido in the car, even if you only think you'll only be a few minutes.
For most of us, this goes without saying: never leave your furry friends in a parked car, even with the windows cracked. Animals can suffer heatstroke, dehydration, or even death in a matter of minutes.
1. Children Should Never Be Left in a Car Alone
Did you know that a child's body temperature rises three to five times faster than an adult?
There are reminder apps available, and some newer cars even have sensors that can remind you that your precious loved one is sleeping quietly in the back seat.
Sometimes simple is best, so try this viral hack: when you get in your car, immediately take off your left shoe and put next to the child in the back seat. As soon as you step out of the car, you'll remember both baby and your shoe!
."}" data-sheets-userformat="{"2":33554688,"11":4,"28":1}">
KEEP READING: 50 activities to keep kids busy this summer