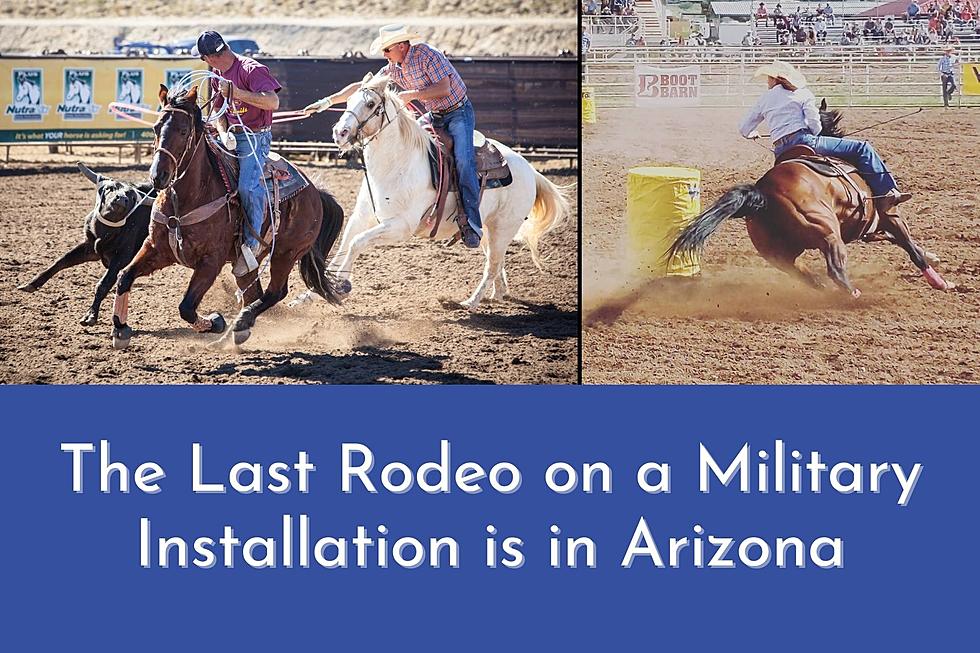 The Last Rodeo on a Military Installation is in Arizona
The Last Military Installation to hold a Rodeo. (Photos: Left, Canva, Right, Val Davidson/TSM
Warm, dusty air rising and hanging airborne. The low chuffs of horses and cattle, waiting. Voices of children running, tagging, laughing. Horses and riders doing groundwork. The smell of kettle corn wafting through the air.
Step into the Cochise College Rodeo in Wren Arena. Scrubby oaks, pinions and junipers shade the landscape as you walk into the Last Rodeo.
The Big Event
According to Stacey Sandlin, Marketing and Special Events Manager at Fort Huachuca's MWR, this is the last rodeo on a military installation in the United States. Every year since 2006, except for the two lost Covid Years, of course, the Cochise College rodeo has been going strong.
This year is no exception. MWR, Cochise College and the Sierra Vista Riding Club are bringing bronc riding, team roping, barrel racing, goat tying and of course, the big show - Bull Riding - to Wren Arena on Fort Huachuca.
As Seen on Yellowstone
If you're a fan of the show Yellowstone and you've never been to a rodeo, you're in for a treat. You'll get to witness up close many of the cowboy jobs you see the characters do on the show, minus all the drama, of course.
Sharing the Fun
There will be an event call the Calf Scramble for kids 12 and under. Ribbons will be tied to dairy calves and the kids will run after them and grab the ribbons. Successful participants will win a gift certificate to Texas Roadhouse.
Even our soldiers will get to share the fun. MWR is assembling 4 teams of 4 soldiers each. Their mission will be to chase a calf and 'dress' it up in a giant pair of calf-sized undies! The soldiers will play for unit funds.
Women and girls of all ages will show off their ranching skills with goat tying, team and breakaway roping, and one of my favorite events, barrel racing.
The men will show what they're made of with tie down roping, team roping, saddle and bareback bronc riding, and of course, bull riding.
Full concessions and an assortment of vendors will be on site. If you plan to go, don't forget that gate access will be required for all who attend, so those without a CAC or Military ID should stop by the Van Deman gate for a pass. Tickets to the rodeo are available at Yardley Community Center on Fort Huachuca.
In Sierra Vista, pick them up at Ace Hardware, Safeway or Spur Western Wear. Cost is $8 in advance or $10 at the gate. Active Duty with ID and kids 6 and under are free.
Gates open at 12 each day, and plan to come out a little early on Sunday to experience Cowboy Church at 10 and exceptional rodeo at 10:30.
For more information, call (520) 533-2404.