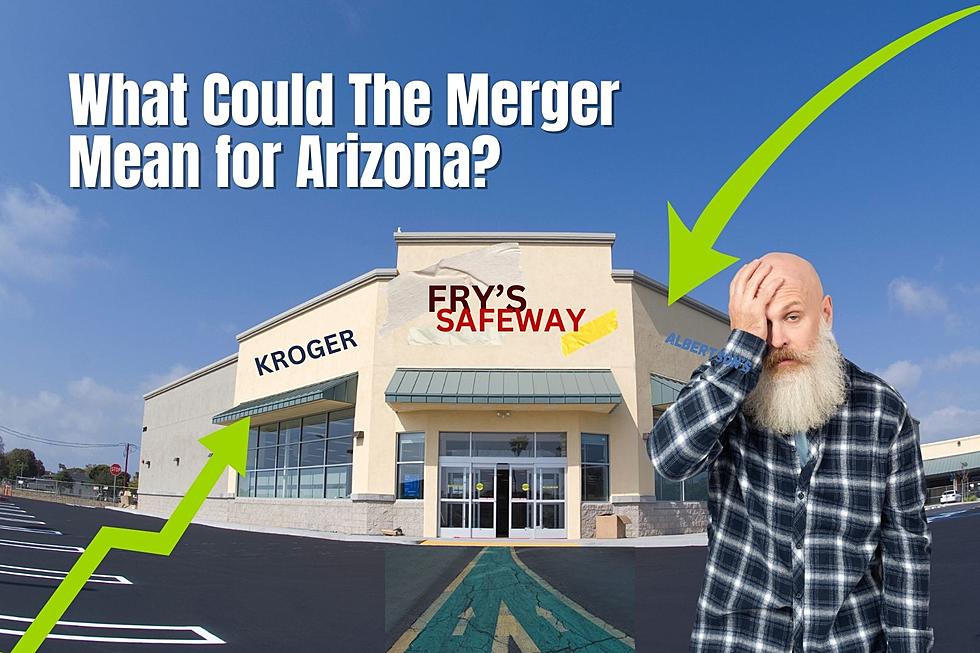 What Could Happen if Two Popular Arizona Grocery Stores Merge?
Canva
If you don't live in the Phoenix or Tucson Metropolitan Areas in Arizona, there's a good chance you inhabit one of Arizona's smaller towns.
The economy of these smaller towns, like Sierra Vista, Casa Grande, Benson, and Camp Verde only support a small handful of grocery stores. Some have a single Walmart, and some may even have a Target store, but it's rare to find two of the same brand in any of these smaller markets.
The addition or subtraction of a single store in these areas can make a big difference in the local economy, in terms of jobs, competition, and the availability of goods.
Will Merging Grocery Stores Affect Smaller Towns in Arizona?
The potential merger between Albertsons and Kroger may affect smaller towns like Sierra Vista much more than larger metropolitan areas.
Kroger, which operates in Arizona as Fry's Food Stores, and Safeway which is operated by Albertston's are planning to merge. In many of these smaller towns, they have one from each of these brands, with the possibility of a Walmart or other store thrown in the mix.
What will a merger mean for Arizona shoppers?
In Sierra Vista, for example, two of the largest grocery stores are Fry's on one end of town, with Safeway further down Fry Boulevard, closer to the middle.
Most shoppers have a favorite store. They like the selection and prices, and knowing the store layout and the staff helps make the shopping experience a little less stressful.
Due to anti-trust laws, if the merger happens between these two grocery store giants in Arizona, many are concerned at least one of the stores will close. This could lead to the loss of jobs in one or both supermarkets.
The impact of this type of closure in a town like Phoenix might not be felt, but in a market like Sierra Vista, the loss of jobs and product choice could have a much greater effect.
No Word Yet on Closure Decisions
Neither Kroger nor Albertsons have made public statements about closing stores or what this would mean for consumers. The acquisition was announced last October, but the final decision isn't expected to be announced until next year.
Closing even one of these stores would certainly impact smaller communities, and could drive prices even higher. Officials throughout the state of Arizona are keeping a close eye on this as it develops.
Most popular grocery stores in America
LOOK: The biggest scams today and how you can protect yourself from them
Inside Amazon: A Detailed History of America's Biggest Online Retailer
Stacker
compiled a list of key moments in Amazon's history and its current business from a variety of sources. Here's a look at the events that turned an online bookstore into a global conglomerate and a self-made entrepreneur into the world's second-richest man.