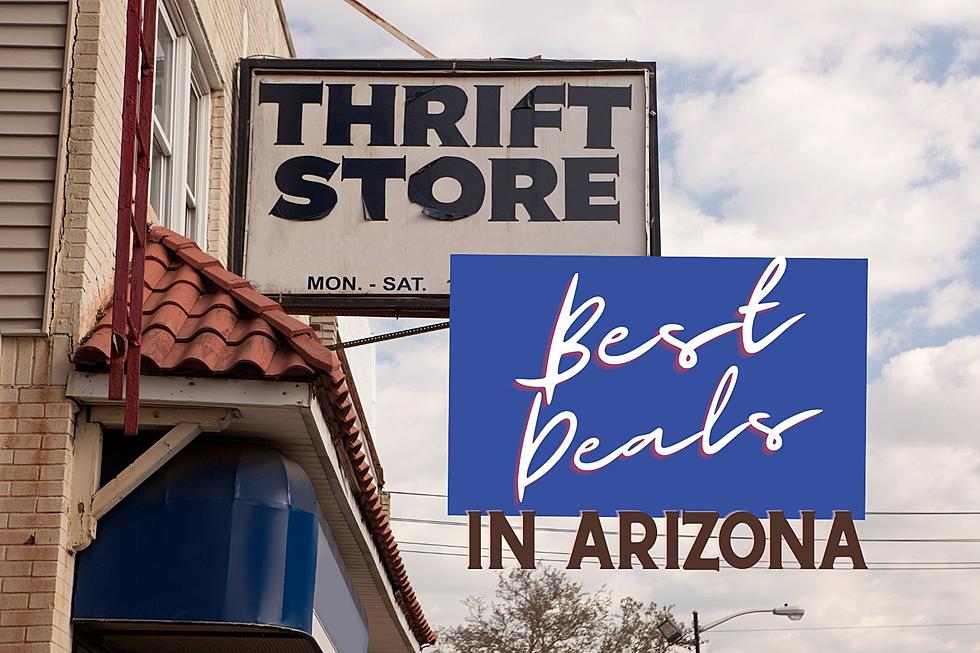 How to Find the Best Deals at Arizona Thrift Stores
How to Find the Best Deals at Thrift Stores. (Canva)
My friends and I love to go bargain shopping, and there's no better place to find great deals than at a secondhand shop or thrift store.
My friend, who we'll call Beth, is the acknowledged expert and a genius when it comes to finding not only the best deal, but top-quality products.
She's found solid wood furniture, designer purses and clothing with the original store tags still on, plus first-rate kitchen tools. And she only pays pennies on the dollar. How does she do it? Here some advice from Beth and Goodwill Arizona:
Choose the Perfect Day
Beth swears that shopping early on a Monday or Tuesday morning gives her first pick and the best selection of goods available. All the yard sale leftovers are usually dropped off early Monday and Tuesday mornings, and store employees are busy restocking in the wake of weekend shoppers.
Goodwill says there's no perfect day - that every day is good to finds something to make your own. But Beth swears a visit early in the week is best.
Know What You're Shopping For
Sometimes it's fun to let serendipity be your guide as you browse the shelves of your favorite store. Beth has found some pretty unique items that way.
While her purchases may seem random, she has an ongoing list in mind while she's browsing the shelves. For example, Beth knows she needs a new end table for her guest bedroom. She's selective, but she also has an, "I'll know it when I see it," attitude. She keeps looking until she finds the perfect item.
Research for Quality
Beth knows quality when she sees it, because she's done her research on how to spot a fake. Just because a purse looks like a Coach or Louis Vuitton doesn't mean it's authentic. And just because it's being sold in a thrift store doesn't mean it's not.
She's found a lot of behind the counter purses that were in wonderful shape AND a great deal, and she's also found a few on the floor that slipped past the stockers and sit waiting, deeply discounted.
Be Prepared to Adapt
Beth can turn lemons into lemonade and isn't afraid to add a little lipstick to a pig. She's pretty good at refinishing furniture and fixing imperfections. Sometimes it's a simple coat of paint, other times it's a complete makeover.
Beth knows what she's capable of and when she's buying something that turns into a project, she's realistic about the time and effort required to make it her own.
She's also really good at using something off label. She can turn a vase into a lamp, a magazine into decoupage, you get the idea. Beth is always careful about potential safety hazards (some things should not be adapted into electronics due to fire hazard, for example), and she chooses items that can stand up to her adaptations.
Shop Sales and Discount Days
Arizona Goodwill says you should look for special discount days. "Seniors, students, military members, or even teachers", have special shopping days. These discounts sometimes extend to family members as well. ID may be required, so be sure to check your local store for these special days.
Just like any store, Goodwill has special sales days. Check the front wall by the checkout when you walk in. Sometimes there are special "tag sales". For example, all PINK tagged items are a special price that day only.
Don't miss out on the Saturday sales! According to their website, "Goodwill's 50% off days, [are] held every other Saturday." Look for signage at the store for information.
Final Thoughts
Beth says always consider how and where you plan to use an item before you take it home. It may be a great deal, but it'll end up as clutter if you don't have a purpose for it, and it'll just end up where it started.
Beth's got some great tips, but here's one from me. I learned the hard way that shopping with Beth will help you find the best deals, but she's also a marathon shopper. My advice? Wear good shoes, stay hydrated, and stay the course. She'll help you where she can but be prepared to keep up!