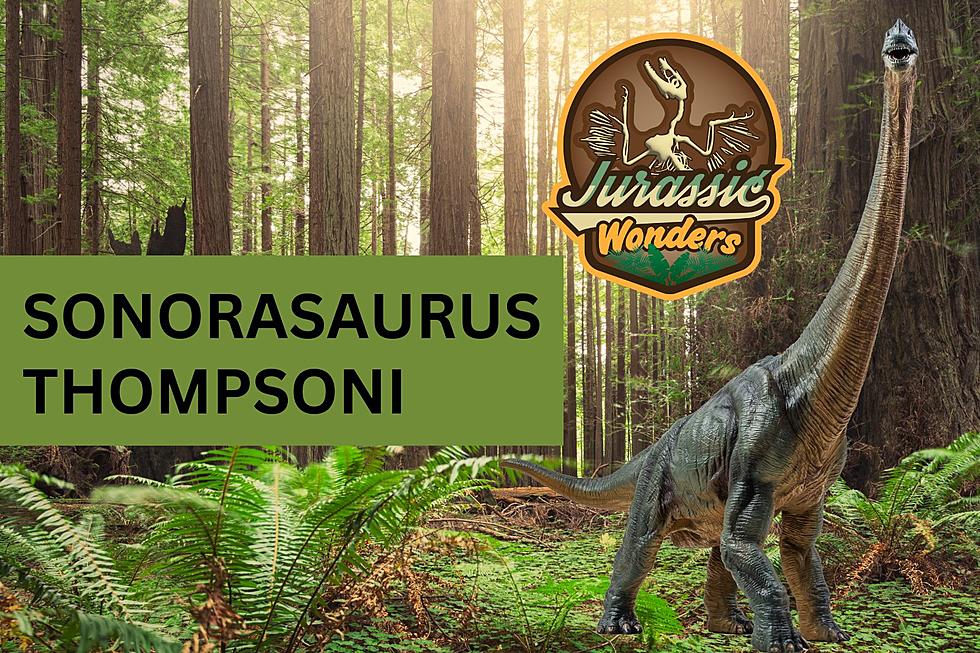 You May Not Know Arizona Has Its Own Prehistoric Creature
Via Canva/Henry F Hauser Musuem.
When I was in grade school, my civics teacher assigned each student a state. We had to research the state's population, the main crops and industries, plus the state flower, the state bird, and the flag.
If you were assigned to the state of Arizona after 1995, you might have also listed a prehistoric creature as part of your state report.
Finding a New Dinosaur
Did you know Arizona has a state dinosaur? Discovered in 1995, University of Arizona geology student Rich Thompson found the fossilized bones of a late cretaceous herbivorous sauropod. Basically, a plant-eating, 4-footed dinosaur that lived in Arizona some 112 to 93 million years ago, according to Wikipedia.org.
Dubbed the Sonorasaurs thomsoni, or Sonorasaurus - the name means Sonora lizard. The bones were discovered in November 1994 by geology student Richard Thompson in the Turney Ranch Formation in the Chihuahua desert region of the Sonoran Desert. The find turned out to be a nearly complete skeleton of a previously undiscovered species of dinosaur.
Identifying the Dinosaur
Thompson enlisted the help of Arizona-Sonora Desert Musuem paleontologist Ronald Paul Ratkevich. Ratkevich and his team assembled the bones, and then began the process of identification.
After a few missteps, the discovery was eventually found to be a completely new species. On April 10, 2018, it was announced that Sonorasaurus was now the state dinosaur of Arizona.
Attend the Lecture
You can learn more about the Sonorasaurus from the man who made the discover, Rich Thompson. Mr. Thompson will lecture on the impact of the find as part of the upcoming Jurassic Wonders exhibit taking place in connection with the Henry Hauser Musuem in Sierra Vista.
Learn all about Arizona's state dinosaur on Thursday May 4th at 1pm at the Sierra Vista Public Library's Public Meeting Room.  This event is free and open to the public and advance reservations are not required.
For complete information, visit the Sierra Vista Public Library's Facebook page for complete information. If you're playing along with the Jurassic Wonders Passport program, don't forget to scan the QR code!
The images in this piece are for illustration purposes only and are not meant to imply this is the actual species of dinosaur discussed in the article.